The study of the art of motorcycle maintenance is really a miniature study of the art of rationality itself. Working on a motorcycle, working well, caring, is to become part of a process, to achieve an inner peace of mind. The motorcycle is primarily a mental phenomenon.
Robert M. Pirsig
You see things vacationing on a motorcycle in a way that is completely different from any other. In a car you're always in a compartment. You're a passive observer and it is all moving by you boringly in a frame.
"Animals travel on all fours. Mankind on two. Motorcycling is not a means of transport but an ideology, a nomadic way of life."
Amit Reddy, Who Stole My India?
A while ago I met a young couple, and being a prickly motherfucker it took a little time to get to know them, but having done so we have become good friends.
http://wolfmotomotorcycles.com/
I have another friend, and all around good guy, perhaps at times too much of a good guy, but when someone is so inherently genuine, it really is not hard to be close to them.
https://woodstockmoto.co
Both these young guys run small businesses and both work and plug at them all day long, nothing you wouldn't expect from any business owner I agree, but both them and myself have the same issues, and that is breaking through.
So next time you spend your money, give a little thought as to just where that money is going, support your local businesses. The more you put into those businesses the more successful they become the more they are able to offer you.
So before you head of to make your next purchase look around you and see if there is a local alternative, and look at your friends that struggle in there brands, and support them, get behind them. Their success is your success, to long we have succumbed to the stupid notion that stuff from elsewhere is better, so get behind your hommies.
Posted 5.10.16 / by Admin
HONDA XLR 250
STREET TRACKER BUILD
"The 54 Special" Is our second street tracker, and began it's life as a Honda xlr 250, officially not imported into the country so quite rare. The frame has was not altered in any way and can be put back to stock with minimum fuss. However we did make the the seat pan with side plates and tank filler panel by hand in Aluminum. This was my first attempt at doing my own metal shaping.
The front wheel is off a Yamaha XJ650 that we drilled out and polished, giving us a 19 inch up front, I drilled it out a little to give it a lighter look. Why a mag rim? well I think it looks cool and by keeping it polished silver, I think it draws even more attention to itself, which for me equals cool.
We imported the rear rim in a 19 inch rim and after having been let down by the local Haidenau supplier I brought in the Shinko flat track tire for it, hard compound, we are seeing how it lasts.
It was important for me that it ran 19inch front and rear as the Americans do, and I have to say besides a little pressure on the couch that will be resolved with performance springs, it is amazing to ride. I was pleasantly surprised at how much fun and nimble the bike is.
We took off the old light setup and clock and made a number plate, then mounter a led headlamp neatly tucked under it that we found at a local 4x4 supplier. The tail light is a strip led that has integrated indicators.
The tracker is completely road legal but ready to race it's for sale so drop us a line via e-mail if you are interested.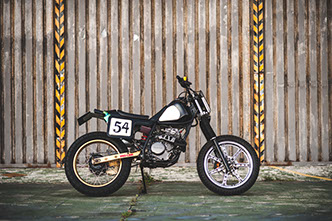 HARD-SHAKE will be the first South African indoor concrete flat track fun day, with the emphasis on fun. The event has been held in the USA, but we are the FIRST to do it in SA.
The event will be held on Saturday the 12th of August 2017 and will consist of an afternoon oval track fun. This event will be hot on the heals of the US and UK outdoor Dirt-Quake series run by Sideburn Magazine, that over the past 2 years have featured the legendary Guy Martin.
The event will take place in a large warehouse with a concrete surfacing, straw bales will encircle the track, ready for riders to try riding whatever they bring to the day.
There will be ample space and straw bales for seating or standing to watch the action. We want to have several motorcycle classes so we have invited groups such as the Vesparados, to come try out their Vespas, as well as the Motard community. We have also invited SOG to come try their sportsters in the Oval.
The event is in mid-winter, providing the perfect opportunity for people who love to ride to bring their bikes out from under the covers and have a go at the indoor oval track, no rain, just good clean fun. With the success of this event we intend to do a bi-annual event, this indoor version in winter and an outdoor event in summer.
This is a FUN DAY not a race day, the emphasis will be on the social aspect and bringing the community together and trying out a new riding format that is now taking the world by storm, with Flat Track racing even being included in the X games.
#supportyourhommie